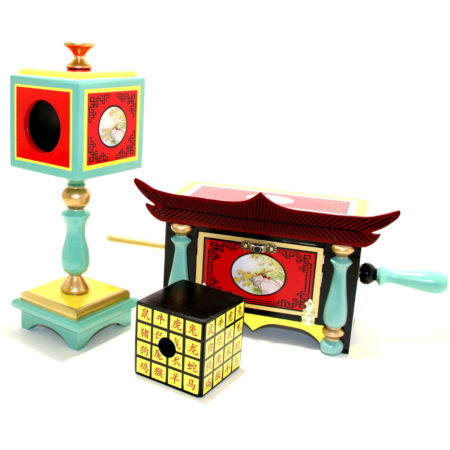 To those familiar, this is generally considered my flagship item …
… and so begins the website listing of Michael Baker's stunning contribution to truly breathtaking and clever magic. In terms of sheer beauty and ingenuity this remarkable effect rivals anything that Milson-Worth, Richard Gerlitz, Mel Babcock and others have produced.
It works beautifully with two unique cooperating devices:
to Vanish the block using a self-working vanish* devised by Michael Baker and Bob Tysl that instantly causes the block to vanish without any apparent moves or clues.
to make the block Reappear threaded on the rod using Sewell's Block on rod (c. 1940 by Len J. Sewell).
The whole outfit is perfectly proportioned and best of all it is not too large with the block a healthy 3″ square, the vanish pedestal is ~12″ high and the reappearance cabinet ~11″ wide, so it will fit neatly in your collection with room to spare.
The finish on these pieces is also amazing with bright rich colors that are deep and enduring. There is no doubt if I was trying to maintain a physical collection instead of my ongoing project I would keep this item safely right here with me.
Few props I have purchased over the last 20 years of collecting magic have caused a lump in my throat and I'm pleased to say that The Baker, Tysl, Sewell Vanishing & Reappearing Block by Michael Baker is most certainly a new one to add to the list.
Absolutely Stunning.
Click here for more information.