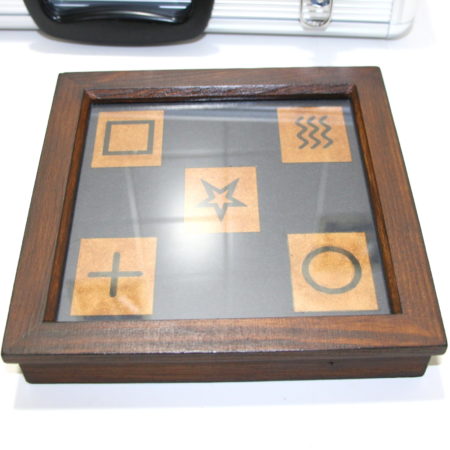 Ian Maltby has created the perfect device when you are looking for push button mentalism that looks authentic, works consistently and doesn't cost a fortune. It comes with a great routine and I love the miscall idea, that makes it seem all the more real.
The wooden box looks like a display case in a musty old museum and with the right performance you're sure to cause to some hairs to rise. Even the gold coin that is used to make the choices plays the part and is heavy and solid in a protective case. The device is very responsive with a range of well over 30 feet. It is all neatly packaged in a protective case so you protect your investment and look good while doing it.
These have been created in a limited edition of just 10 units so now might be the time to stampede over to Paul McCaig's website where you can purchase it – you'll find other cool treasures there too! Paul McCaig is the creator of the wonderful Mind's Eye Box here.
Basic Routine: The performer introduces an ESP board and a coin depicting the all seeing eye. The spectator is asked to cast their eyes over the ESP symbols on the board. The performer then explains he will be blindfolded and be several feet away from the spectator with his back turned, the spectator Is asked to place the coin on any symbol of their choice,(this is a totally free choice).
Let's say for example the spectator selects the square. The performer asks if a symbol has been selected, when the spectator replies yes the performer then explains that they can change their mind if they wish. Lets say the spectator then selects the circle, the performer asks if they have made their final choice, when the spectator replies yes, the performer asks them to remove the coin from the ESP board. The performer removes the blindfold and walks back to the spectator, he picks up a note pad and asks the spectator to think about their chosen symbol, the performer is trying hard to read the mind of the spectator.
With absolutely no questions asked, the performer asks the spectator to name the symbol they chose out loud for the first time. The performer turns over the note pad and sure enough there is a drawing of the circle. The performer seems a little confused and asks the spectator if they thought of a different symbol before the circle, the spectator replies yes.
The performer then turns a page on the note pad and says was this the first symbol you thought of, on his note pad is a drawing of the square. The spectator is shocked that not only did the performer correctly name their chosen symbol but also named the first symbol they thought of while the performer had his back turned and was genuinely blindfolded.
Click here for more information.