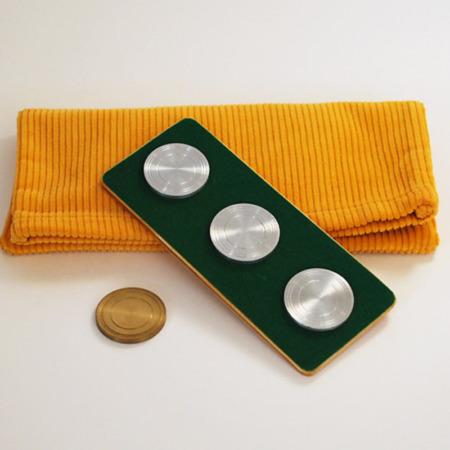 Very early and appealing Warner item

Looking through a November, 1972 list sent out by Alan that is in my collection, this item is among the several mini-magic items first sold by him. I believe that was the first year he started his business. I don't see this one as part of his line of children effects, though the instructions did include a children's routine, nor one of his famous painted items. It would have fitted more with his teak line, but teak was not used in the wooden board. Nevertheless, it is a very nice close-up effect using a standard gaff method in coin magic, but with a great new twist and presentation.

The effect involves a nice transposition of a middle mounted disc from silver to gold. All is beautifully crafted with precision gimmicks made of either aluminum or brass. The effect is rather easy to perform. The instructions are detailed in the handling – you start and end clean. This is another winner from Alan and glad I was able to obtain it in such mint condition, considering its age.
Click here for more information.