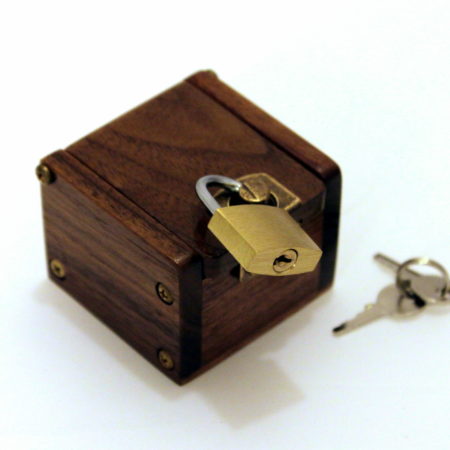 Powell Packs a Punch

I've never been let down by Mr. Powell's effects and this lovely piece is no exception.

The effect is not new, but the method is. Or sort of. It actually combines several old ideas into a new design. But how come? And that is why I'm giving this review 4 stars instead of 5. Don't get me wrong, I am NOT regretful for purchasing this. I love it. The quality is top notch, and the design is unique. This box can play in a variety of settings. I just question why Mr. Powell put so much effort into fixing something that may not have been broken.

Let me go into detail without letting on too much. This box looks like a Lippincott box, feels like a Lippincott box, delivers the same effect as a Lippincott box, but doesn't function like one. This probably will fool your magician friends at your IBM meetings, but laymen, who probably could never figure out a traditional Lippincott Box, will never know the difference. It is devious, and the secret – to those who aren't familiar with its workings – is undetectable. But is it necessary?

A gentleman by the name of Joe Porper also recreated the Lippincott box with his ingenious Strong Box. It was brilliant in design and construction, and in some ways – due to its added weight and design – functioned a bit quicker than a standard wood box. Dave Powell's beautiful Antique Pill Box also brings some new ideas to the table. But did either of them NEED to be made? I guess you can argue that it's human nature to improve upon our past accomplishments. The classic Linking Rings effect for example, has been redesigned to include a practically seamless, locking key ring. A lot of magician's love this update. So, maybe I'm just being too analytical.

Let me close this already long review with this…if you are a collector, and love Dave Powell's creations as much as I do…buy this. If you are a professional, or casual performer who appreciates quality, and can afford this piece…buy it. If you are an amateur, or beginning magician who can't spend the money for a top shelf effect…don't buy this, there are much less costly options.

Myself? I'm a hybrid. I am an amateur magician and an avid collector who has a habit of buying beautiful, hand-crafted magic, created by artisans who have pride in their work

I am not disappointed.


Click here for more information.