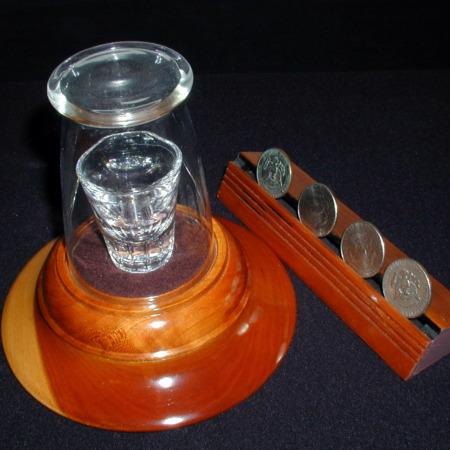 First of all — it's called "Copenetro"

I owned an original of this Kline effect in 1974 and was stupid enough to sell it a few weeks later when I needed the money for God knows what. I was 19 so what'd I know?

Last year I married a woman whose family has close ties to Bob (and he's seriously ill these days), so I was able to re-purchase another original.

I'd bought two different versions on EBay — one that the cantankerous Hank Lee is putting out (terribly inferior to Bob's work — it has a square base) and one that closely resembles the original: John Mendoza quickly informed me that it was an Indian replica… again, before I re-attained the "real" one.

To be truthful, the mechanism of Kline's original isn't 100% effective (in fairness, these are between 25 and 50 years old and probably should be sitting on collectors' shelves, as mine is). Using the tongue depressor to "rig" the trick can take 20 minutes or more and even then isn't foolproof. Coins occasionally get stuck on the way "out."

A friend of mine, Chuck Rygle of PA, is (very slowly) manufacturing a perfect replica, but as he has no rights to sell it (that belongs in Lee's scary domain, as his are trash), Chuck's in a quandary.

But his has a push-button to load the coins which is exquisite. Too bad he can't sell it as a reproduction under the Kline name.

Were Bob not in such failing health, I've little doubt that he'd recognize the very clear improvement and would easily grant Chuck approval… and you could buy this item and really appreciate its beauty.

~g

Click here for more information.