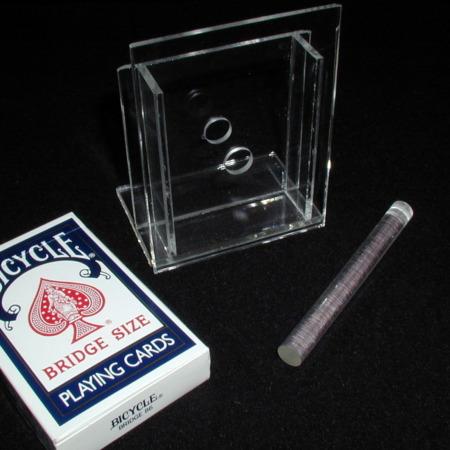 Not Actually an RnT Product but Nice

This effect was actually put out by John Snyder, who joined Rings 'n Things toward the end of their reign as kings of aluminum, brass and copper products.

It was released by RnT in their latter years (1977-80 or so — the company disbanded in '80), under the auspices of Snyder — who eventually caused the downfall of Rings 'n Things.

This was the only plastic item RnT ever sold.

A good effect using a Stripper deck.

A card is selected, placed back in the deck, which is shuffled by the victim, and placed into a plexiglass houlette with a perspex rod running through it.

The rod is flicked out and the deck falls the rest of the way into the houlette.

One card remains above the deck.

Of course it's the chosen card.

Nicely made and an interesting use of a Stripper deck.

~g
$link(http://www.gary-michaels.com/magic.html,http://www.gary-michaels.com/magic.html)
Click here for more information.