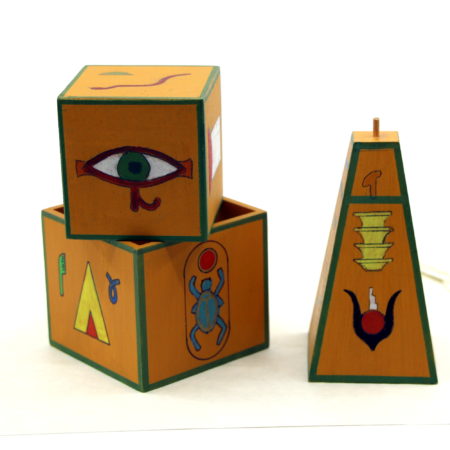 This beautiful piece was made out of wood and hand-painted by German craftsman Dietmar Willert c. 1987. Dietmar made a series of Egyptian themed pieces and all are beautiful and highly collectible. The Windblown sands was made in a limited edition of 87 units with each set numbered on the base – this is # 34 of 87. Joe Stevens marketed these c. 1989 and included an English patter story by Bill Palmer.
As pretty and clever as this routine is, it feels much more like a collector's effect as it stands and I think it needs something more to bring it home. And I think I have the perfect effect: Tony Lackner's Hand of Cleopatra.
This is a collectible and cute piece of magic but it probably won't fool anyone who has lived in last fifty years. Bill Palmer's story is good, but something is missing for this to really entertain. However, by doing this first and then moving into the custom Hand of Cleopatra you can demonstrate two levels of control – first the sand and then the movement of the hand itself, which can leave to a satisfying complete routine.

Click here for more information.