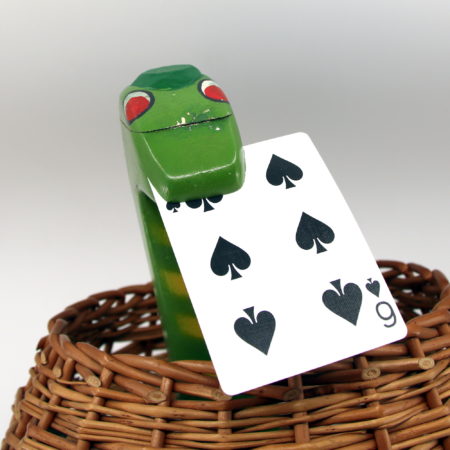 Russell Swann introduced and probably invented the Snake Basket c. 1939. Jack Hughes released his amazingly inventive Snake Basket c. 1949. That was about forty years before Collectors' Workshop created their wonderful Khyber Kobra. But what is really amazing about the Jack Hughes Snake Basket is how much action he gets from it with zero electronics or clockwork motors, just well designed springs and levers creates all the magic and entertainment you can handle 🙂
When this little guy arrived at my door he was looking a bit worse for wear and I've been working with him on and off for a few months. The original snake has a small rope magnet in the head to attract the ball but this had lost its magnetic juice. Also for the spinning lid and "snake in the grass" gag you are meant to stick a tack through the basket lid into the snake's head. When Chance Wolf built his beautiful recreation of this effect he used a magnet for this part because the tack was not a good long term (or short term) solution. So I included a fresh piece of "grass", added a large and powerful magnet* to his head to cover up the old magnet and large tack hole. I also added a large magnet in the top of the lid and a smaller one in the base of the grass. So now the snake easily attaches to the lid and the grass stays on the lid thanks to the magnets. It took a few attempts but I finally ended up with the correct sized magnets that make it work easily.
With the exception of the spinning lid (which I've dropped due to the tack and it felt the weakest part of the routine) everything else in the original routine works well. The snake and pieces maybe a little worn and show some marks and flaking paint but everything is still usable and effective.
I spoke to Chance Wolf about how easy it was to pick up the card because I was having trouble. Chance gave me a few tips that worked but also admitted with the original Hughes version the ability to pick up the card got harder as the unit aged. However, when I was practicing this for the video I pretty much nailed it every time. Like many things in magic once you have the knack it is pretty straight forward. The good news is that even if you do have to take a few tries this is a comedy item and a little jiggling can even add to the entertainment.
However you perform this beauty Jack Hughes demonstrates you don't need electronics or clockwork motors to create some amazing visual magic and entertainment 🙂
Click here for more information.