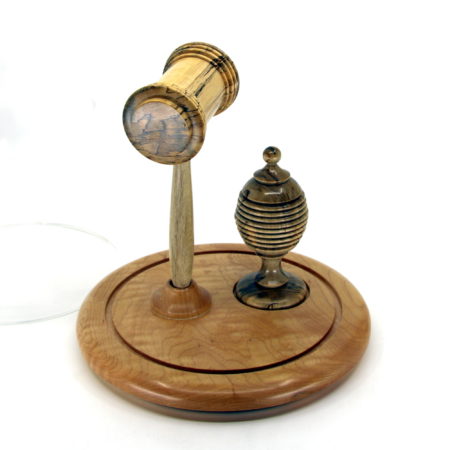 This effect has been around from at least 1886 when it appeared in The Amateur Magician by J. Dazley Theobald c. 1886 (pg. 23 The Magic Hammer of Mysterious Disappearance). My suspicion is that it was certainly before that. Thayer made some beautiful versions and you can see some brief demonstrations by Dr. Albo in The Ultimate Thayer. In addition to Thayer many dealers have crafted their own versions including: A. Roterberg c. 1904, Inez 1904, Heaney Magic Co. c. 1924, and N.M.C. c. 1936.
However for all of these and other versions, it is hard to beat this gorgeous version created by Richard Spencer. This beauty is made from Blue Marble and African Blackwood with #002 on the base. It is very solidly made and works perfectly.
The routine I would use is described below. I think you will absolutely love this 🙂
Click here for more information.