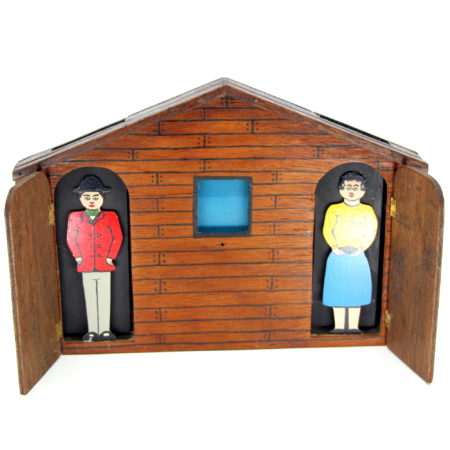 What an adorable prop this is 🙂
I am pretty sure this is a one off created by a very talented British craftsman but I have no other information on the creator. However, I can share what I have pieced together. The creative British inventor and Children's magician, Len Belcher, wrote an article in Abracadabra (October 10th, 1949) titled "See That Wet!" which featured a weather house with a man and a woman, and the man figure disappearing and reappearing in place of the woman. Then c. 1954 Supreme Magic started selling their Little Weatherhouse with a similar premise. Then in 1983 Len Belcher was back in Abra (January 22nd, 1983) with a new article "Weatherman", where he recalled his original article, the subsequent copying by a dealer of his idea, and came back with some more thoughts and a better routine. This is where the idea of the man going back and forth to the lady's side is introduced. Len also beefed up some patter details, and included a sketch of a weather house.
From these beginnings I believe this prop was created. Although it didn't come with a routine from reading the Len Belcher articles and the Supreme ad copy I came up with the effect below which seems to be in the spirit of what Len Belcher was going for and whoever the very talented craftsman was who created this.
Just look at the attention to detail – it is all solidly made from wood with metal figures, and the figures are even painted on both sides. Each brick is painted individually, and even the doors have extra grain painted on to add to the realism of the little house.
Here is the routine I came up with after studying the prop and reading the Belcher articles and Supreme advert.
Click here for more information.