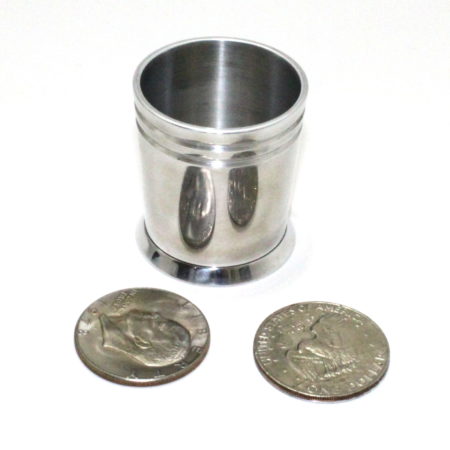 Omar Ferret's cup is the same as many others I have seen but it is unclear when these were introduced, certainly the 1980's but could have been much earlier. Possibly derived from the Chop Cup, with the important distinction that for most of these Coin Cups when they are loaded you can still look inside the cup. This is a big difference and useful when creating routines. The other key detail about this type of cup (just like the Chop Cup) is they can be thoroughly examined because it is only when they are combined with a suitably gimmicked coin that they become effective. There is no adding or stealing of other cups and most effects can be done without any real sleight of hand. Of course the beauty of a utility item like this is when you blend it with just a small amount of sleight of hand you can look like a real master.
Omar's is a really solid and thick aluminum cup and coin gimmick from Cuban Magician Omar Ferret. This one comes with no routine, but it is much better quality than the Johnny Wong Cup. It can be used for penetrations, transformations, vanishes, and appearances.
Click here for more information.