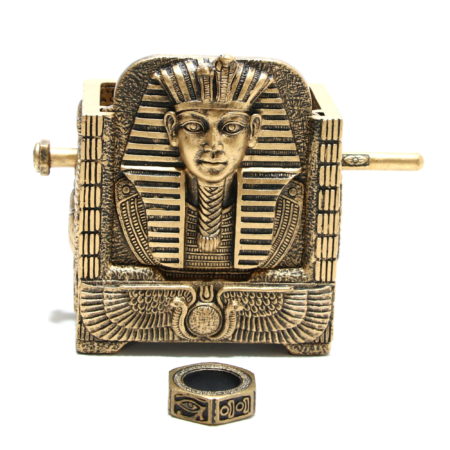 This item is remake of the amazing close-up effect by Clarence Miller called Nuts & Bolts. Apart from the ornate design this uses the same method as Clarence. Magic Wagon changed one key part by removing the need for black art, but to be honest I'm not convinced it was a necessary change and now you can't freely show the back of the cabinet and an extra action is required for the effect. It does look a little cleaner when you look inside the box closely, but I'm not sure how big a problem that was with the original. The look is definitely way more impressive and the construction will last a lifetime, but otherwise it is all Clarence. For collectors who like the ornate style there is no doubt the Magic Wagon version will appeal more, but as I a have said many times when it comes to entertaining and fooling the public, less is often more.
On to the videos … things are really heating up in the Magic Wagon YouTube world and competition is stiff. For this bad boy there are six versions!!! Not all good Magic Wagon items get many (or any) videos but if they are easy to do and visual then they will get more. I don't ever recall seeing six videos so this item is very popular! I've included five (which is my website's limit) on this page. The winner is the amazing Simon Corneille who was clearly inspired to produce an outstanding video with all the extra trimmings that Simon is making a name for. Simon's video is a real inspiration 🙂 There maybe more videos at some point so follow this link for more demonstrations. (I should add that Simon did add a few extra pieces to be able to perform his video, including buying two sets of the prop itself.)
Click here for more information.