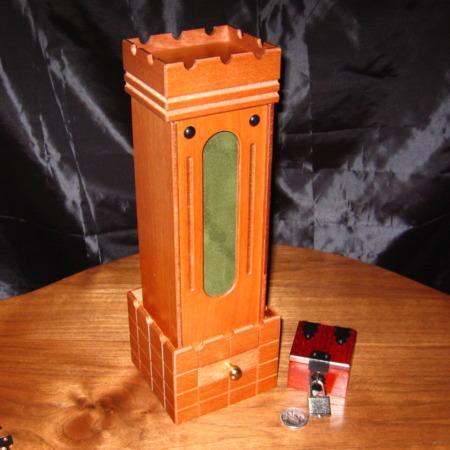 Different from Douglas-Wayne Illusioneering, But More Practical! If you have ever seen the Douglas-Wayne Illusioneering version of this effect you will at first be a bit disappointed. The Douglas-Wayne Illusioneering version is a faithful reproduction of the drawings in Hoffmann's Modern Magic. It is smaller, particularly the tower the coin rises up on, and it is slightly better made. However, it is quite a big pain to set-up and how the coin rises behind the window can be seen in certain lighting conditions.
With the Mikame version, reset is much, much easier using a clockwork mechanism and the coin rises in broad daylight with no clue as to how even with bright lights shining on the tower. It is also wide enough so that the coin rises without touching the sides so it really does look like it is rising unaided.
The kicker of course is that when it gets to the top you hear it hit the top and then find it in the little box that is locked and on top. The coin can be signed if desired.
To the audience this Mikame version probably looks better and since it is much easier to reset, I believe it is more likely to be actually performed, rather than sitting on the shelf looking cool.
The collector will certainly prefer the Douglas-Wayne Illusioneering version, however if you really want to perform this more than once a year I think you are better off with the Mikame version. Although the craftsmanship doesn't quite measure up to Douglas-Wayne Illusioneering Quality it is still a very nice piece and something you will be proud to own and perform.
Click here for more information.