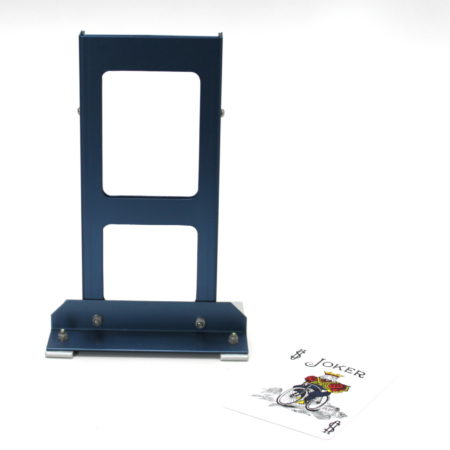 What a clever and clean take on Jack Hughes' Card Go premise. This really is a surprise beauty built by Alan Wright for Supreme Magic based on one of the earliest ideas from The Great Norman. The Great Norman's real name was Norman Hazeldene and he grew up just outside Manchester in Stockport, Cheshire, England.
This version consists of an attractive anodized metal display stand in which a signed playing card is placed and easily seen by the audience. It is covered with a handkerchief and handed to a spectator to hold. The balance of the desk is gathered up, wrapped with a rubber band and given to another spectator.
On command the spectator removes the handkerchief and the card has vanished, only to be found back in the deck the other spectator is holding.
This is a beautifully self-contained device that you'll love playing with and I haven't seen another like it.
Click here for more information.