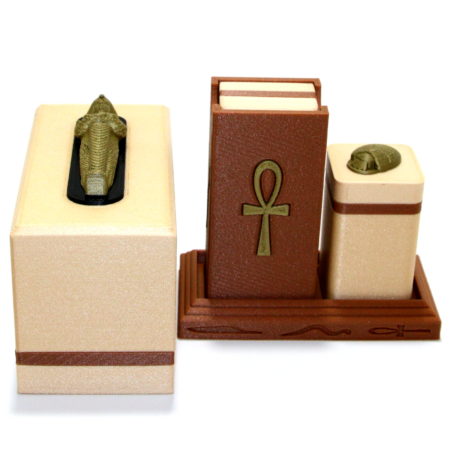 Wow Kent's 3D magic line is growing in leaps and bounds. The latest two items I have received are really raising the bar as what to expect from 3D printed magic today. I don't think any of the other 3D printed items I have seen get close to the quality and effort that Kent is putting into them. If I didn't know better Kent is trying to make you forget you even want real wooden items, whereas many other creators are just using 3D printers to get items out quicker.
What I continue to marvel at is how much thought goes into the size and shape of every piece. Kent thinks through his treasures both from a Collector's standpoint with items sitting pretty on the shelf and a performers standpoint actually carrying and presenting the effects.
The effect for this item is clean and straightforward. You show the spectator an all white mummy resting in the sarcophagus. Then they get to choose one of six colored chips in a fair way and that chip is placed on top of the sarcophagus, which when opened now displays a mummy of the chosen color.
What is even better is that for repeat performances the mummy and chip chosen can be any one of six different colors. Although this is not a trick you could repeat to the same audience immediately.
If you are already on board with Kent's 3D Magic Works you'll love this and if not, this would be a perfect place to start.
Click here for more information.