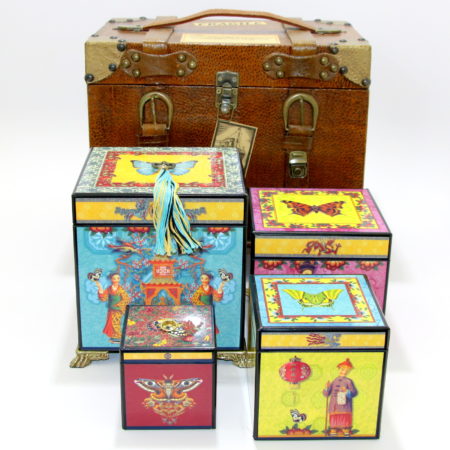 After many years I finally have a set of not only the most beautiful Nest of Boxes on the planet, but one of the most impressive props for magic ever created, period. I believe this to be Richard Gerlitz's finest hour.  These Butterfly Boxes are truly breathtaking. And the method is equally as captivating. For the first time in years I was taken aback when I opened up this package.
Many magician's are looking for that same excitement they had when they purchased their first trick, but after each new item arrives it gets more difficult to be moved.   If you have seen as much impressive magic as I have, it becomes almost impossible to be really moved.  Well, these Butterfly Boxes did just that.  Richard has thought through every aspect of this old chestnut and created some unique innovations along the way.  Not only will it fool magicians (if you care), but the operation is so smooth, you'll kick yourself.  Richard has thought through every aspect, from set-up, to silently loading with minimal angle issues, to allowing the spectator to hold the last three boxes in their hands as the smaller boxes are removed.
Warning:  If you are lucky enough to find a set of these you will not only be foolish if you don't purchase them, no matter the price, but you will also look at all of your other "cool" magic in a different light, because one you reach this level, everything else pales next to it.
To me, the amazing Richard Gerlitz still reigns supreme when it comes to the creation of beautiful and amazing magic.
Click here for more information.