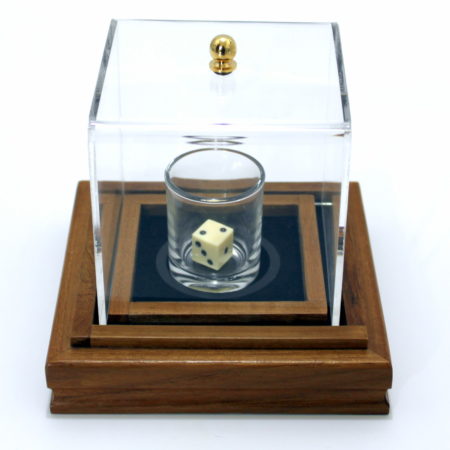 Best piece ever made by Magic Wagon!

This is absolutely the best piece ever made by Magic Wagon. The electronics are extremely well hidden in the very thin bottom and the transmitter is one of the smallest I have ever seen.

Many routines are possible with this amazing piece.

Séance
Synchronicity
You can turn a die with the power of your mind Any number named will turn up on your control If you cover glass with a cloth you can predict the number that a spectator has mentally chosen You can even move other objects if you want

Best thing is the build in delay, now I always have my hands empty when the die starts to roll over. Very nice touch and very convincing, I can concentrate on presentation and always have precise control!

Can be controlled from up to 75 feet but I did try it and could even get some further away. When you see how everything is made, no photo will do justice to the beauty of it.
These items are sold only once and when they are gone there will be no more.
If you can find one, get it!

Highly recommended!

Click here for more information.