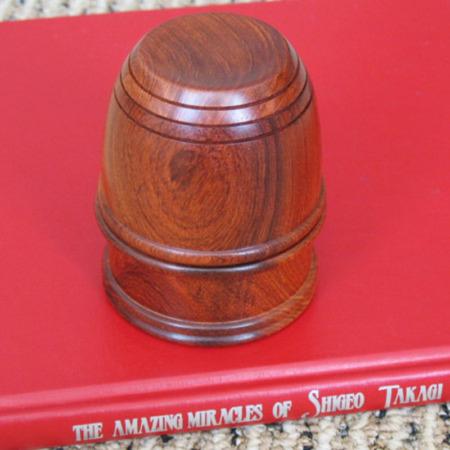 Another RNT2 Winner!

I have owned a copy of "The Amazing Miracles of Shigeo Takagi", published by Richard Kaufman for years and one effect in that book that intrigued me was "The Solid Cup". It was not just the routine that attracted my attention, but the interesting cup that was needed. Having owned many cups and balls set, it was very unusual. I did see a simple Walnut one go on ebay recently and now RNT2 has made a very few sets turned from very exotic woods.

Jake made this one from Asian Rosewood Burl and it is absolutely gorgeous! As I have said in another RNT2 review, the company is the leader in handcrafted wooden apparatus made with a vast choice of rare exotic woods. The images may give you an idea of both the beauty of the wood and the skill of the turner. The fit between the two sections is tight, maybe too tight, but don't mind it at all, so there is no danger it separating during the routine before the final revelation.

The set came with a wand (not shown as not to steal the stage from the star) and a set of crocheted balls. No routine was included, but get a copy of the Takagi book, a great book for your magic library. Thanks Jake and company for another most welcomed piece to my collection.

Click here for more information.