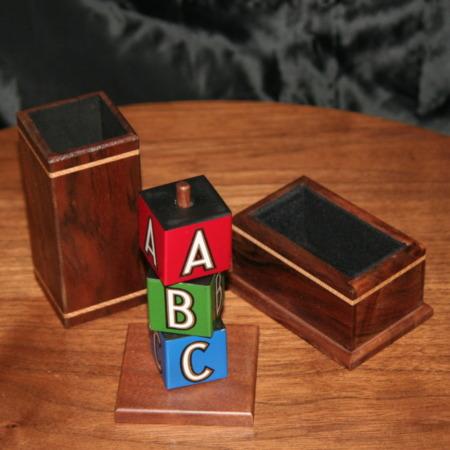 Great Mini-magic, Babcock style

It just great that Mel offers some of his magic in various sizes to please one's taste. Since my interest in the mini-magic of Alan Warner began, I have looked at other builders for these little cuties. I have been fortunate to get three from Mel in mini size with the Mini ABC Blocks being a real treat. Using exotic woods, combined with a reputation for both wood and metal working skills, Mel sure delivers and he, particularly, did a flawless job on all my mini sized pieces.

Mel used a highly grained and beautiful Bocote wood on my ABC Blocks and the workmanship is superb. If you get his "Ultimate ABC", as I did, you also get the matching open box to have the middle block visibly and instantly reappear to complete the routine. The appearance of that "B" block is startling to see. The effect is a classic and you have a choice from his "Giant" with 4 inch blocks to the "Mini" with the 1 1/4 inch blocks…Most Highly Recommended!
Click here for more information.