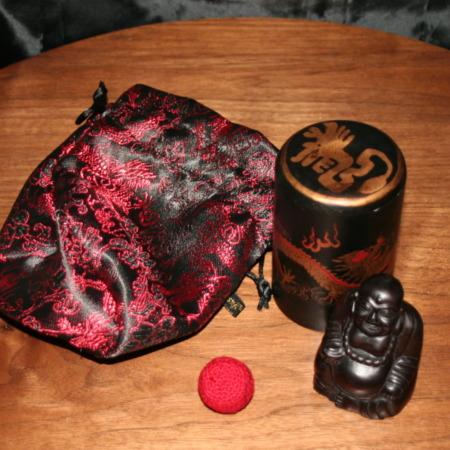 A Lot of Chop For the Money

Like most magician/collectors, I own quite a few chop cups. Some are the more traditional metal or wood variety, while others are "themed" and designed to resemble dice cups, billiard pockets, trash cans, soda cans, rice bowls, cocktail shakers and the like. I held off on purchasing the Buddha Chop Cup for fear that it was yet another attempt at reintroducing this familiar effect using an unfamiliar theme. And, that is exactly what the Buddha Chop Cup is. However, It wasn't until I finally gave in and purchased the effect that I realized how superior this chop cup is to some of the dozens of inferior models that preceeded it.

The Buddha Chop Cup is a first-class outfit all the way. The quality of workmanship is evident the minute you see, and feel, the beautiful carrying bag. The cup itself is a hefty, easy-to-manipulate prop covered in what feels like antiqued leather. The exterior detailing of the container is distressed just enough to open the door to a wide-range of story telling regarding how and where you may have found the cup. The balls are high-quality as well, but the final Buddha statue load is what really made me smile. Without giving anything away, the Buddha statue is manufactured in a way that opens up a variety of options for customizing and producing the final load.

If you are a collector you will be proud to add this set to your chop cup inventory. If you are a worker, you will enjoy the versatility the Buddha Chop Cup offers in both handling and performing.
Click here for more information.