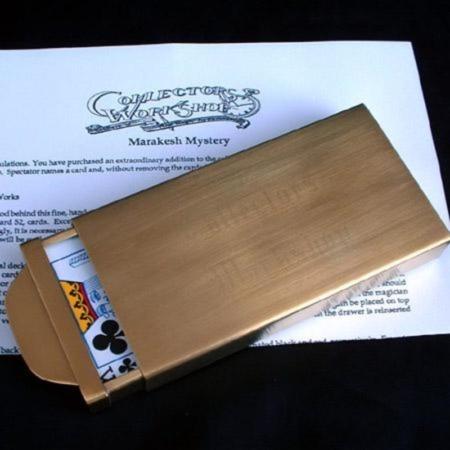 Think of a Card..CW Nova at a Bargain

One of the most interesting concepts in card magic with a mental twist has to be the "Any Thought of Card Rise". Dr. Hooker's model, unavailable at any price, depends on a method that simply doesn't make sense today. Other attempts include the Joseffy Rise, the Neyhardt model, and the current wonder, Collectors' Workshop Nova, which sells for $12,000..Oh, would I love to own this treasure!

Marakesh Mystery was created to fill the void at a very affordable price, but it still required very tedious handcrafted work to accomplish the effect. It was advertised in both the 1987 and 1990 catalog, but was already gone when the 1993 CW catalog was released. Nick Ruggiero realized that it just wasn't practical to continue making this item and keep the price reasonable, so it was discontinued.

The method apparently wasn't original to CW as I have seen "older" versions of this particular effect appear on ebay, though the CW version was likely the "Rolls-Royce" of the bunch. A spectator thinks of a card and writes it down on a slip of paper. A solid brass case with a simple "skeleton" brass frame shown; frame is withdrawned containing a deck of cards. Both sides of the frame can be shown as in the images. Without removing the deck, the frame is held up with one hand only and the thought of card just rises out of the deck. It's beautiful magic at its best. One limitation was that the deck will rise any pip card called for, but not the face cards. This was not a problem as the suggested patter easily eliminated the face cards in the spectator's choice. That is still 40 different cards under your control! Amazing prop and stunning magic.

Click here for more information.