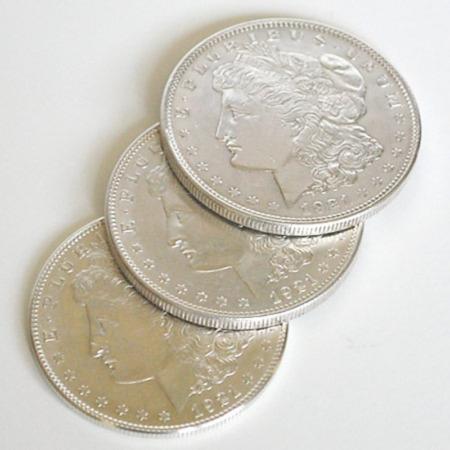 Lassen Triple Threat

This new batch of Triple Threats from Todd are perfection. Todd has outdone even himself with his newest group of gaffs. The 1921 BU coins are great and match all my other sets. The gaff acts just like one coin when you need it to. There is no concern of separation or rattle. The weight is also just like a real coin, which makes the gaff feel even more realistic. The inner coin also has the look of a real coin not that paper thin look that that other gimmick has by you know who.

I have a soft Morgan TT as well and like this one just as much. Unlike George I do like the JOL purses and was told that they retard the aging process. Not sure on this point, but they do hold the coin well and protect it from nicks and drops.

Beg, borrow and steal, do whatever it takes to get one. You will love it and never part with it.
Click here for more information.