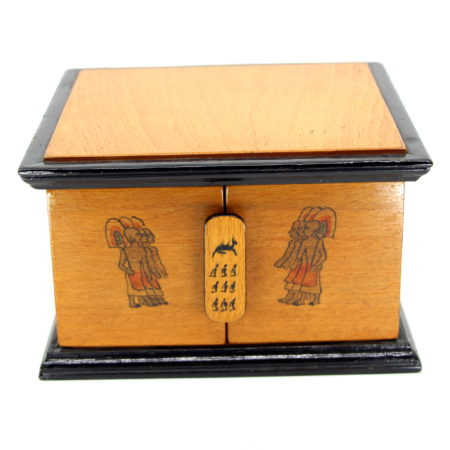 If there is one effect that captures the imagination of most Magic Collectors it is The Mummy or Wandering Mummy routine. The Gold Standard for The Mummy is still the amazing beauty created by Eddy Taytelbaum.
I recently received this version from the Ruediger F. Deutsch Collection created by an unknown craftsman. It is most likely a one of a kind created by a German Craftsman who read the article Die Mumien in the German Magazine Zauberkunst (1965, Issue 4, pg. 22-27) written by Herbert Martin Paufler. In this article is a very unusual and beautifully sketched example of the Mummy effect. The design is very unique and if you look at the images in the magazine and then at this fine version you can see the design is almost identical. However, the magazine has even more detail and fine points which led me to conclude that the Paufler sketches came first, then this version was created from the article. (Thanks to Georg Walter for his assistance in helping piece this information together.)
If you know any more information about this version please contact me.
This beautiful and unusual version closely follows the effect created by Oskar Rey and sold by Joe Wildon in the 1950's, and continued with Inzani-Henly, Eddy Taytelbaum, and a little later Alan Warner. In each of these versions the mummy floats, disappears and then reappears in the other sarcophagus.
The main difference with this version is that Mummy when facing up will always float. If you want it to stop floating you have to turn it face down. This is different from the other early Mummies which require the Mummy to be turned end for end. The floating feature has lost favor in recent years and most "modern" Wandering Mummy's don't even include it.
This is a really lovely version which works perfectly and I'm very happy to be able to add it to my collection for all to enjoy 🙂
Click here for more information.