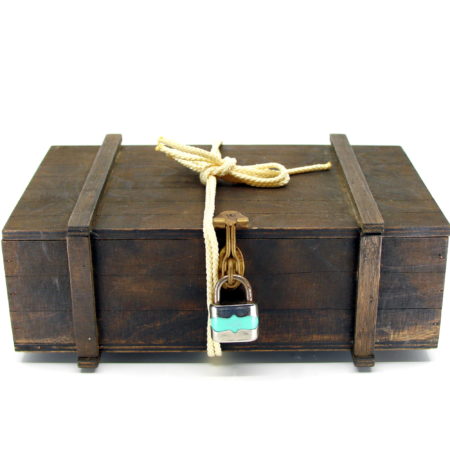 I must say how impressed I am with this prediction box from Roy Roth's R.A.R. Magic. Roy built these boxes, but I believe it is a Larry Becker idea, and we all know how clever Larry is!
What a wonderful clever device this is and even better than Roy's Nest of Boxes which is another beauty. Both inner and outer boxes can be locked. The outer box measures: 10″ x 6″ x 3.5″ deep.
I've had a few of these over the years but I believe this is one of the first versions made – it is a little more vintage and has a more authentic look. The instructions say "Nest of Boxes" but the adverts say "Prediction Chest" – it can be used for both.
What most performers, including myself, miss about this box is that the original routine has the magician opening both boxes and clearly showing everything is empty. Then they padlock and tie it up so that not only are the spectators certain nothing is in there, but also that nothing can get inside without opening the padlocks. If you perform it this way, it makes for a much more baffling effect. Normally, most performers start with it locked and ready to load and miss out the whole beginning convincer. But if you do show everything clean at the beginning then there is less heat on you when you come to load it later on.
Click here for more information.