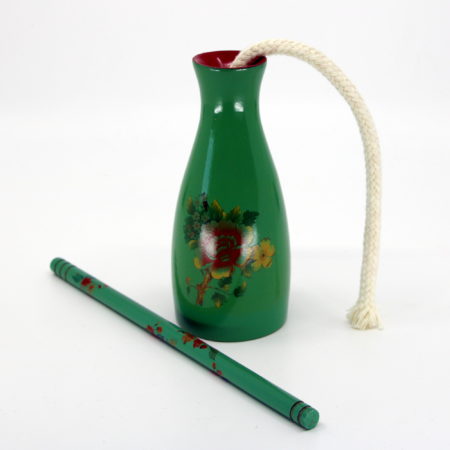 It is not clear who invented the original version of the Prayer Vase but ads started appearing in the 1930's. Davenports called it the Demon Enchanted Vase (c. 1934), Floyd Thayer called it The Chinese Jug and Rope (c. 1936) and Abbott's called it The Oriental Vase Mystery (c. 1936). In the Abbott's adverts they say it was of Oriental origin and that it was first introduced to America by Percy Abbott.
This beauty was created by George Robinson of Viking Mfg. and it is turned of white gumwood and painted with several coats of lacquer. Hand cut decals are then applied with three finishing coats of clear lacquer and a final waxing to complete the process.
The vase does not use the standard method and when it was released it did not even include a rope and original gimmick. To my mind it better if you can do the original rope version first then introduce the wand and use the new method to give an overall better effect. So I've included a rope, gimmick and instructions for the original.
Click here for more information.