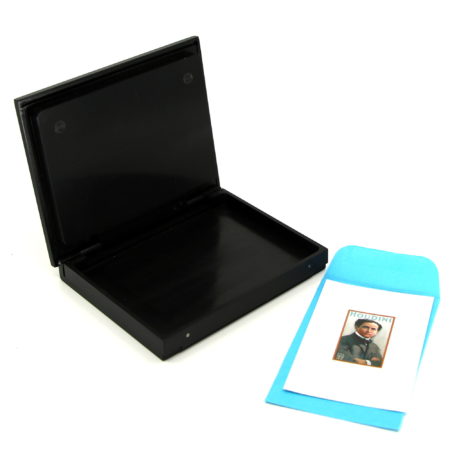 Along with the P&L Ultra Perfect Card Box, this beauty from Joe Porper is one of my all time favorite Card Boxes. When I first received this I couldn't figure out how to get to the second compartment (and I've seen a lot of card boxes!) – this is always a good test! I have not seen a card box using this precise method before but even if it is not original with Joe, no one makes them like Joe Porper!
Apart from the very obvious: that this box is flawlessly machined and works perfectly, I really like this box because the "flap" is totally under the magician's control. If you want to put a card in there, switch it, and then retrieve the original card you can. And you can do this right under their noses, with no magnets or other devices to add or take away. The whole box is totally self contained. The only potential problem with this card box is the weight: 11 oz. That's a heavy block of metal to be lugging around in your pocket.
When these came out in 2006 they were shipped with a great booklet from Magic Inc.: 50 Ways To Use A Card Box. And I included a Houdini routine that is based on an idea in the booklet called Houdini Card.
Click here for more information.