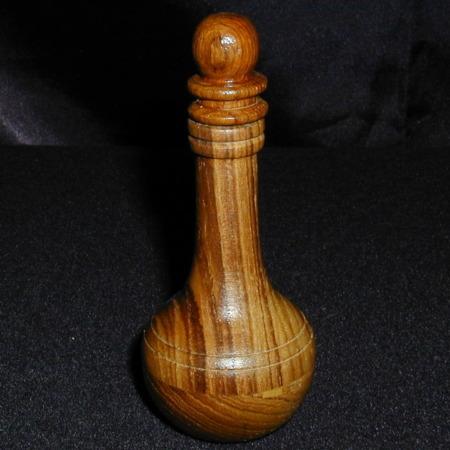 Grab these while you can!

As I look at all the magic I've puchased over the last 32 years it becomes very clear to me that there are very few real craftsmen around still making quality magic. Craftsmen like Alan Warner, Mel Babcock, and Richard Gerlitz are all on my list of course. But sometimes I forget to add to that same list: George Robinson of Viking Mfg./Collector's Workshop. When I look at the quality that he consistently pumps out it is quite amazing, and then you factor in the price – there is noone else in the industry, period, that produces the same quality at the same price.

This little bottle is a wonderful piece that you will be proud to own. It is easy to do and comes with some great ideas. I suggest you $link(http://www.vikingmagic.com/?html=full&key=768&tagent=martinsmagic,snap these up) because I don't know how George is able to offer these at such low prices. For the amount of work involved they are a huge deal!

In fact I would say the same thing about a lot of Viking pieces – George has kept his prices very low for a long time. You can get some of the same effects for less from the rip-off guys, but if you want the real deal pay a fraction more and you will be much happier. Viking quality really shines when you take the time to appreciate it.

I suggest you $link(http://www.vikingmagic.com/?html=search&tagent=martinsmagic,point your browser to the Viking site) and load up on many of the cool effects that George has to offer – I have owned nearly all of the pieces from the current Viking catalog, and only now am really starting to appreciate how much better they are than so much of the other dross out there.
Click here for more information.