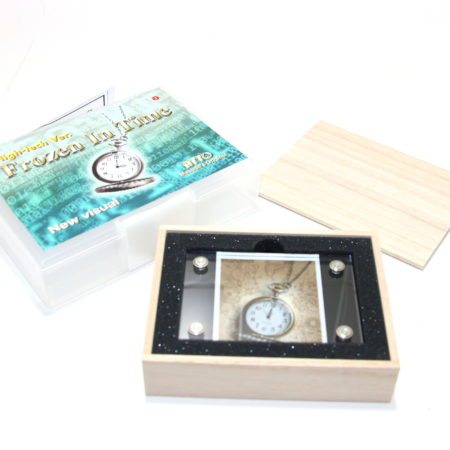 The original version of Frozen in Time was created by the Japanese Close-up performer and inventor Katsuya Masuda in 1990. Along with many other clever effects Masuda has been at the forefront of innovative magic for over 30 years.  This new high-tech version is a real beauty and works like a dream. The magician shows a wooden case to the spectator and asks them to name any hour.  Then the magician asks
the spectator to open the wooden box. There is the photo frame inside the box, and inside the frame is a photo of a pocket watch. The time on the watch photograph is the exact same hour chosen by the spectator!
Features:
The magician doesn't touch the box from start to finish
Latest technology enables operation by remote control
It can be inspected before and after
The photo can be taken out from the box to be fully examined
Photo frame is the same thickness as original version, and can be seen from any angle
It uses standard batteries so you won't have any replacement issues.  The only thing I would have changed was to have supplied a switch for the main box to avoid having to remove the batteries when not in use.
Click here for more information.