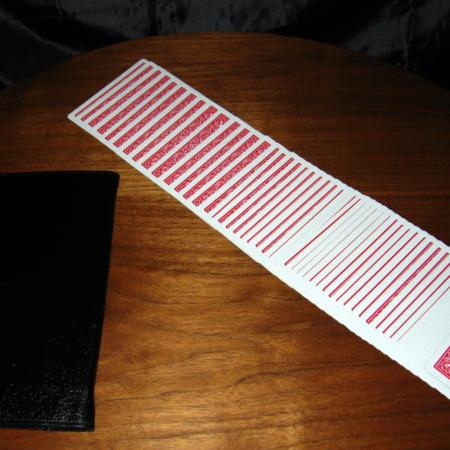 My favorite Mind Blowing Card Effect!

When Paul Richard's over at $link(http://www.elmwoodmagic.com/?myaf=2 target=_blank,Elmwood Magic) first told me about Doc Dixon's effect: $link(http://www.qualitymagicbooks.com/?nd=full&key=2723 target=_blank,Carpe Cajones), I was very impressed. The idea was one of the best I had ever heard of, very clever – but so simple too! Unfortunately, I got hung up on the mechanics a bit, and it took me some time to really come to terms with how easy it really was.

After, more coaching from Paul and rereading the effect in Doc Dixon's amazing book: $link(http://www.qualitymagicbooks.com/?nd=full&key=2723 target=_blank,Everything is Funnier with Monkeys), it finally dawned on me that I was way too worried about the one move that is needed. Once, I changed my performance to account for this, everything fell into place. Now, this is easily my favorite card effect and it is so mind blowing it hurts. The effect becomes almost self-working if you use $link(2753, Jerry O'Connell's No-Palm Wallet), which is a wonderful utility item too!

The basic effect is one of a triple prediction but it is so strong and clean you really will believe in miracles. The idea also has very real potential to be used for other types of predictions. If you like things like $link(2777,Paul Harris's Deep Astonishment) you really will love Carpe Cajones.

Carpe Cajones – not just a great name – an incredible reputation making miracle! Highly, Highly, Recommended!
Click here for more information.