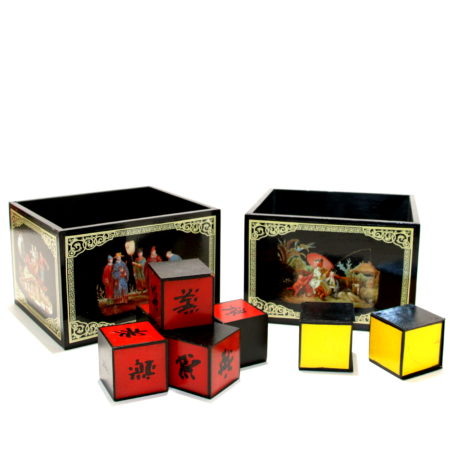 When I first saw Michael Baker's Zen and Again on his website I was very excited because I thought he had taken Loyd's Bunko Blocks and added some beautiful boxes with an Oriental theme to create the perfect set for a Bunko Blocks Deluxe effect. Unfortunately, I was a little disappointed because Michael does not use the mechanical method with Zen and Again that makes the Bunko Blocks so effective. In fact, after contacting Michael he had not even heard of Bunko Blocks so was unaware when he created Zen and Again of the effect or the method created by Loyd c. 1945. Don't get me wrong Michael's version does use gimmicked blocks which do work, but I'm not convinced it is anywhere as close to the real miracle that can be achieved with the Bunko Blocks.
So what I did was combine both effects: Loyd's Bunko Blocks and Michael's Zen and Again boxes, and now you really do have a wonderful routine and a complete fooler too – a true Bunko Blocks Deluxe 🙂
Michael's Zen and Again also comes with updated patter, or you can use a variant (updated for modern PC sensibilities) of the original Loyd handing and patter and you have a really perfect miracle that looks the part too!
I do include Michael's blocks which you can see in the photos but to be honest I can't imagine why you would use them over the original mechanical Bunko Blocks. The Bunko Blocks have these features:
No Shells.
Nothing added or taken away.
Instant Reset.
No Extra Blocks.
No Exchange of Blocks.
No Sleight of Hand.
All Blocks are shown on all sides.
which no other solution has.
Click here for more information.