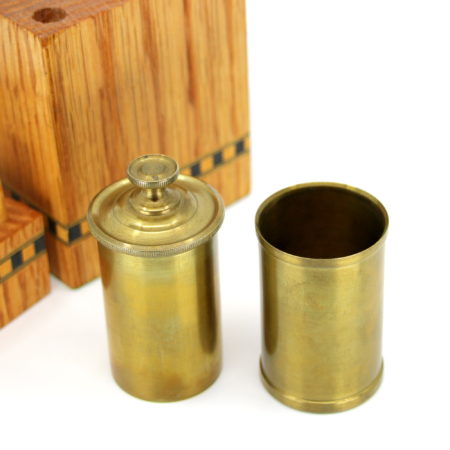 What a clever brass utility box this is and made so perfectly by Terry Roses. It comes in a beautiful inlaid oak carrying case too. Terry Roses does it all: he is a sleight of hand enthusiast, an avid collector of gambling equipment, locks, Houdiniana, a lecturer, a fantastic craftsman, and the secret identity of Dr. X. These were originally sold directly by Terry Roses c. 1982 and in 1987 a few sets were also sold by Stevens Magic Emporium. SME called this item the Ultimate Prediction Bottle (Plug Box) just to keep things interesting and historians guessing.
Although, I had read about a plug box before in Modern Magic and Thayer Quality Magic and even recall that Viking's Bill Vanishing Tube was based on the same principle, this is the first one I have played with. And I must say I love it 🙂 It is very effective and can be used to vanish, produce and exchange coins and other smaller items with ease.
Includes:
The Brass Plug-Box
The Oak inlaid carrying case.
Instructions from Modern Magic.
Instructions from Thayer Quality Magic and an NMC Presentation Routine (Bonus).
Three different Fantasy Coins which look and feel real and add a little mystery to the various effects you can do with this clever little box (Bonus).
It is nice to get surprised when you pick up one of these old brass items that really is a very wonderful device and perfectly machined.
Click here for more information.