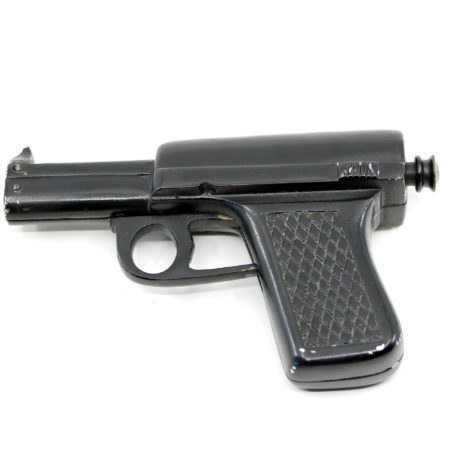 The first reference I could find to a Silk Gun or Pistol was in Stanyon's Magic May, 1910: Pistol to Vanish a Handkerchief. Mr. Joseph created his version c. 1925 and released it in small quantities. By the time of World War II all supply was eliminated and there was no supply until Lloyd Chambers took over manufacturing c. 1948. In July of 1950 Bev Taylor of Town House Magic bought complete rights to manufacture and sell this beautiful item.
Based on the instructions and the bonus sixteen page Silk Gun Routines by Bev Taylor this gun is almost certainly from 1950 or later. As far as I am aware there are no significant differences between the versions of the guns.
I have tried out a number of silk pistols over the years and the reason I think the Joseph Silk Gun is the best are:
It is custom built rather than retrofitted from an existing toy gun being primarily made of cast aluminum.
It is a compact size.
It looks like a real pistol.
The vanish happens by placing the silk on top of the gun away from the barrel tip instead of dangling from the tip.
It is very reliable.
It allows for a cap to fire too for extra bang action!
It is easy to reset without tools.
The only two downsides with the Joseph are:
Each use can slowly damage the silk.
Unless you use a black or dark silk you have some angle issues in that you cannot show the top of the gun once vanished.
With care the damage can be kept to almost nothing, but you are likely to need to replace the silk every 30-50 vanishes. What they recommend is to practice with an old silk and only use the better silk when performing live.
For my money this is the best Silk Gun 🙂
Click here for more information.