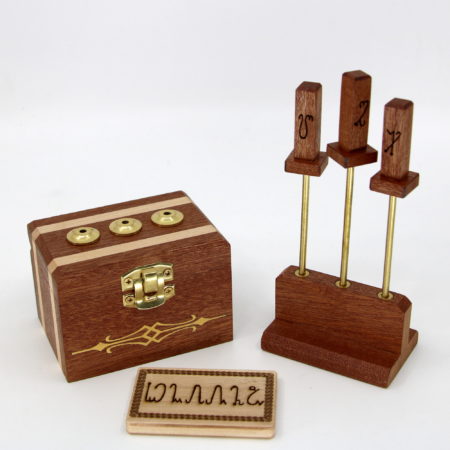 This is the second in a line of unique collectibles manufactured by Damir Djanis of Croatia. Damir has definitely upped the ante with this release and is really demonstrating his wood crafting talents.
The props looks wonderful and they can be minutely examined – there is nothing to find. The method works very well and with just one read of the instructions you'll quickly get the hang of things. The instructions and routine, written by George Robinson Jr., include an interesting story-based routine which you might enjoy.
Notice: This does not work the same way as Magic Wagon's Magic Gemstone and Hieroglyphic Spells – you can clearly show the tablet fully flush in the bottom of the box and even have the spectator close the lid if you desire.
History Notice: The creative genius who began the modern Mummy craze in Micro Magic, Karl Edler, created an effect called "The Tablet of Knowledge" (Die Täfelchen der Erkenntnis) c. 1941 but Karl's effect was a mentalism effect with 10 numbered tiles and bears no resemblance to Damir's penetration effect described on this page, just in case you history buffs were wondering.
As with Damir's previous release these are made in a limited edition of 24 units so there is no doubt these will become more collectible over time. My advice to you is go get one now 🙂
Click here for more information.