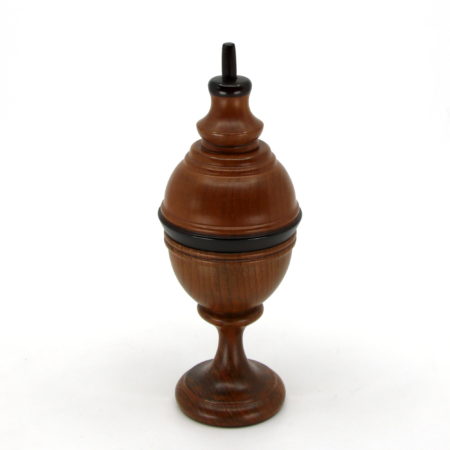 Since 2016, Mad Jake Jr. and his brother Frederick have been growing their company Airship Magic into a successful magic manufacturing and distribution company. Jake focuses mainly on the metal and coin work and Frederick on the wood work and turning. They also collaborate with smaller, and often unknown, craftsmen to bring a unique line of magic that you rarely find elsewhere in the industry. Their commitment to quality and innovation is high and I've been very happy with the products I have purchased from them directly and through Stevens Magic. Just browsing through their website you will find all sorts of cool items that you won't find elsewhere.
This is a pretty version of this classic wood turning effect made by Frederick at Airship Magic with a snug fitting ball and shell. It looks great and works well. It is not as fine as Colin Rose's work or Owen's or Floyd Thayer's but that is also reflected in the price.

Click here for more information.