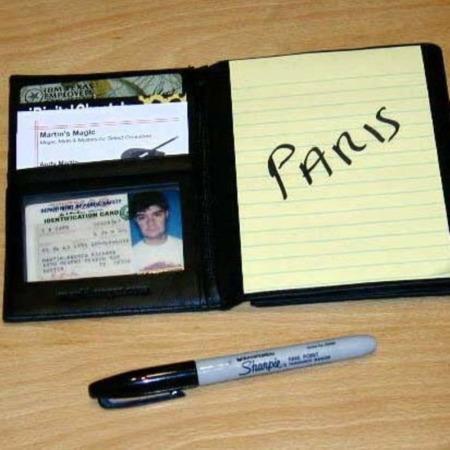 The review here makes no sense. The wallet is just big to be able to make a bigger drawing and to use it for a larger audience too. It's a pretty normal looking wallet and the quality is fantastic. This piece is really amazing and it's a real shame they aren't made anymore.
If you own one, be careful with it because this is now a collector's item of a quality that is no longer made anywhere.
Cons:
It's a little big – but that's an advantage too!
You need a special marker (but these are very easily available these days)
Pros:
Super quality lasts a lifetime (and longer)
You can show the wallet on 2 sides
The wallet also has a slot for card to wallet (Kaps wallet style)
You can store other (packet) tricks in it
The impression is really very clear (and can be seen from a great distance)
The impression is nice and big
Obtaining the information is very easy and completely invisible!!!
Obtaining the information can be instant and with a delayed peek!!!
The special gimmick is indestructible.
And this wallet looks amazing!!!
Very highly recommended
Click here for more information.