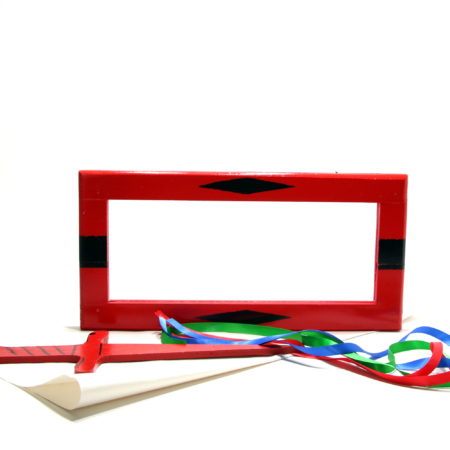 Flexible Glass or Bending Glass (as it was known in the UK) was invented by British Magician Oswald Rae. Max Andrews released it in the UK through his Vampire Magic company and gave USA manufacturing rights to Stuart Robson* who released it as Vampire Flexible Glass. As Rae presented it he used a piece of glass covered with a newspaper or a brown paper bag. In the January 1946 issue (Vol. III, #8) of Hugard's Magic Monthly, Milbourne Christopher's Column suggested using a mirror which has been pretty much the standard ever since.
This is the original version with glass created and sold under license by Stuart Robson and includes:
Model Glass Window
Red Dagger (Wooden)
Colored ribbons and bodkins (I did have to replace the ribbons and bodkins)
Instructions and clear handling presentation
What I like about this version is how deceptive the size of the frame and the glass is. The tolerances are very tight and in fact by rounding the corners of the glass they even squeeze out a little more space. The version used by Doug Henning here, made perfectly by Wellington Enterprises, may still be the best version of this effect, but for an item that is about 75 years old this is surprisingly good and very deceptive.
Click here for more information.