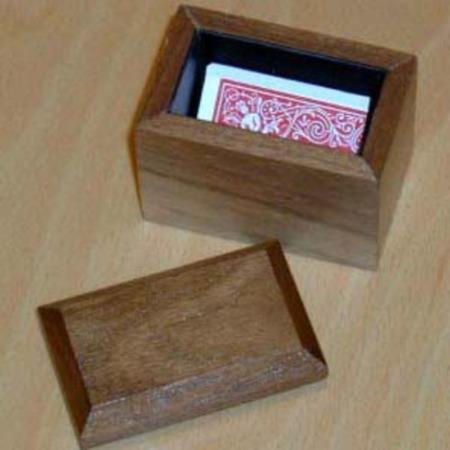 This is the first of many versions of John Kennedy's amazing Mystery Box which won Trick of the Year 1997 in The Magic Menu – and could have being doing so for many years since if I had a vote! It is still my most popular close-up effect of all time.
Magician brings out a small wooden box and places it on the table. A playing card is freely chosen and signed by a spectator. Card is shuffled back into the deck. Magician asks: "Do you think that I can find your card in less than 10 seconds without even looking at the cards?" He holds the deck behind his back for several seconds, brings it back out, announces "I've found it!." He points to the wooden box. But, no way! No one has been any where near the box! Magician asks the spectator to lift the lid of the box and see what is in there. It is a folded card.
The magician picks up the box with his empty hand and tips out the card onto his open hand. The box is clearly empty and there is one folded card in the magician's hand – with no moves or covers he asks the spectator to open the card. The spectator unfolds the card. It's his card with his signature!
The box is made in solid Walnut with a clear lacquer finish and looks like an elegant canister, not really a prop.
Click here for more information.