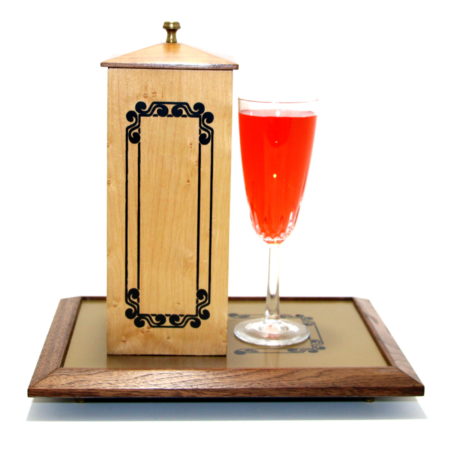 In 1995, consummate magic collector William H. McIlhany  commissioned the master craftsman and inventor Martin Lewis of Magickraft Studios to create this beauty.  And what a wonderful and rare piece of real magic  it is.  The effect comes from Martin's father's (Eric C. Lewis) book The Crowning Miracles  (1983, pg: 176-179), and according to a letter from Martin Lewis there were only seven created.
Not only is this a beautiful prop the way it works is truly magical. There are no buttons to press, nothing to replace after each performance, no electronics and barely any sounds. You fill the elegant wine glass, place it on the tray, briefly show the inside of the wooden chimney, and place it over the glass, and in just a few seconds nearly all of the liquid disappears.  Really a clever piece of magic from an idea by Louis Histed.
Click here for more information.