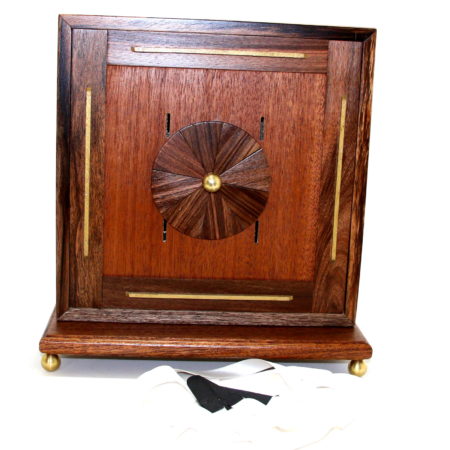 One of my favorite glass penetrations is the Glass (Quadruple) Penetration that was invented by Peter Warlock in 1937. It is sometimes known as the English Glass Penetration and there have been a number of versions created, even as recently as 2008 when Magic Wagon created their Mod Quad Penetration. It is a wonderful illusion and a real fooler for sure.
The Miracle Mirror Penetration invented by Magiro and enhanced by his good friend Lothar Vogt with these features:
Mirror:
It's not a plastic window; it's a real mirror (with a hole)
You can hang it at a wall/septum
The top is closed (but you can remove the mirror)
The words on the back are a good reason to show the back of the mirror. You can remove them.
And others
Shell/Sleeve:
The back of the original is fully black.
The four yellow squares in front and back
The big hole in front, so you see always the mirror
The cover for the hole – hold with magnets
The cover for the long hole at the back. So you can show front and back!
And others
was an amazing mirror penetration. Magiro's idea uses a similar underlying method to the Warlock version, but it has a number of key changes and improvements that make it even more perplexing. The biggest change is that instead of just penetrating a pane of glass the penetration occurs to a framed mirror that is 100% isolated from the world with a solid cover which can be shown from all sides at any time. Nothing is added or taken away and it really is one of the cleanest penetrations you will ever see.
Magiro's mirror is being reproduced here by the talented Paul Lembo with guidance from the principle of the Limited Edition Magic line, Joe Long. This is the strictly limited Deluxe Hardwood version and only six of them exist.
(Notice in the Paul Lembo video above he forgets to remove the cover at the end to show the mirror in place, which is a key part to showing the effectiveness of the illusion.)
Highly Recommended to lovers of perplexing and beautiful magic everywhere.
Click here for more information.