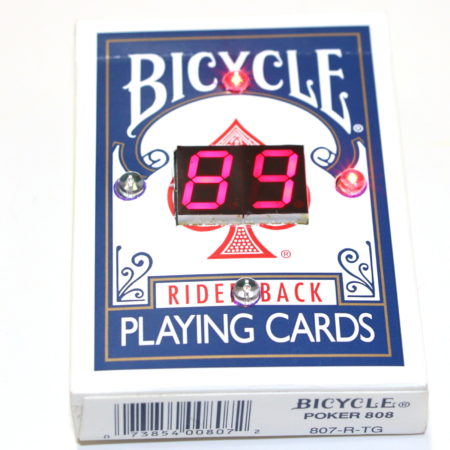 If you are unlucky enough to be the wife of a magician you're going to be forced to watch a lot of magic during your lifetime and most of the time you will not be amazed, amused or even entertained. In fact, in our home we have a phrase: "bile rising" and often just the thought of seeing another magic trick triggers the BR response. So imagine my joy when I showed this card trick to my wife – and she smiled, laughed, loved it and was amazed too. When your long suffering wife enjoys an effect you know you are onto a winner.
What I love about this effect is that it is simple to understand and direct to perform, and apart from having the card chosen and returned to the deck the spectator does all the handling and counting of the cards. The Computer Deck animations and sounds created by the amazing Bill Spooner are striking and precisely what you would imagine a real computer deck would look like. Bill has clearly thought through the creation of this wonderful deck and it shows. The circuit board is professionally engineered and works perfectly. Even the rechargeable battery can be replaced unlike so many other devices I've had over the years, but the battery seems to last for a very long time anyway.
The unit comes with printed and video instructions, which is so useful and rare these days and Bill goes into some detail about the performance and maintenance of the effect.
I have included a quick demo video just to show you the basic routine and I plan working on this and getting it out on the road this holiday season so hopefully I'll get some live reactions captured, but based on my wife's I am confident this is a real winner.
The effect is easy to do and I made one simple change to the routine to avoid any real delays or skill when setting up the deck. You only need to be able to control their chosen card to the top and the rest is simple and Bill provides two different methods. In the demo the card appears at position 8 in the deck, but the computer can be set to show any number between 00 and 31 which is perfect for repeat performances.
I rarely buy electronic magic these days, no matter how well made it is because sooner or later it will fail, but the impact of the leds and sounds this deck makes is so strong it is worth it, and I am confident I will have many years of use out of this item.
Highly Recommended for Performers who like to Entertain and Amaze everywhere.
Click here for more information.