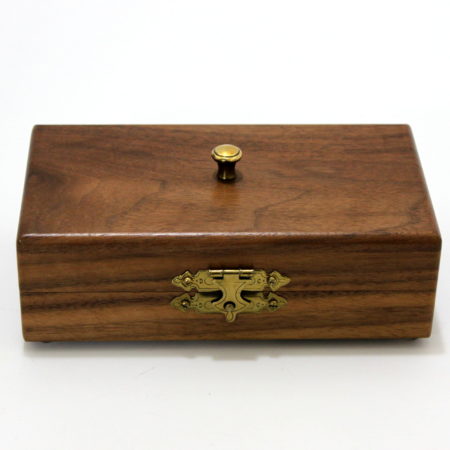 Magiro put out a neat card box years ago called the Clairvoyance Chest. It had one main distinction to the other boxes out there – a slit in the side that would allow you to push cards into the box, and then via use of the handle you could change them without anyone knowing. It was a simple addition but very powerful. Unfortunately, the Magiro box had this huge knob for the box which screamed trickery. When I saw it I immediately thought of CW's Psychic Sword – the box that George puts out has all the characteristics that you need, and if only you could add a slit for the cards it would be perfect.
So I contacted my good friend George Robinson and asked him if he could add the slit – he thought it over and three days later this beauty arrived. It is perfect and takes the Magiro idea to a whole new level. George even includes three other ideas (in addition to the original Psychic Sword) with the box and I could not be happier.
This has always been my favorite card box, but now there is nothing even close to it. I love it George!
Highly recommended for Collectors, Mentalists, and Magicians everywhere – this box is easily the most versatile card box ever created!
Click here for more information.