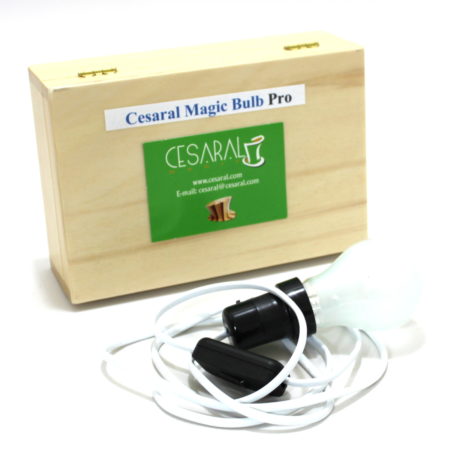 There Can Be Only One Magic Bulb!

So if you have read my review for the Cesaral Spirt Bell you'll know that I consider it the finest one of its kind by a mile. Well Cesar Alonso has done the same thing with his Magic Bulb Pro. It is perfect and beautiful.

The Cesaral Magic Bulb comes in three main styles: the standard one, the pro one, and a remote control one. For pretty much all situations I think the Pro one is the best. You can see inside the bulb and everything just looks fine – it simply looks like a real bulb. When it glows it glows bright and looks like a real bulb. It comes with a switch that you can plug-into the wall to show the bulb is real by turning the switch on and off – which is a real convincer of how normal the bulb is.

Although you can have your own programmed sequence created by Cesar, the standard one will wait for 15 seconds and the produce some bright flickers. Then the bulb waits for 20 seconds and then gradually turns brighter and brighter and then it gradually turns off. After the initial setting it will do this without you touching it again. If you watch it in action, it seems perfectly normal.

The bulb appears to last for months without a recharge and each charge can be used for many performances. As with all things released by Cesaral Magic, everything is well thought through and all appears natural in your hands.

Cesaral Magic is not cheap but it is worth every penny – give me Cesaral Quality over quantity any day!

Highly Recommend for Performers and Collectors everywhere.
Click here for more information.