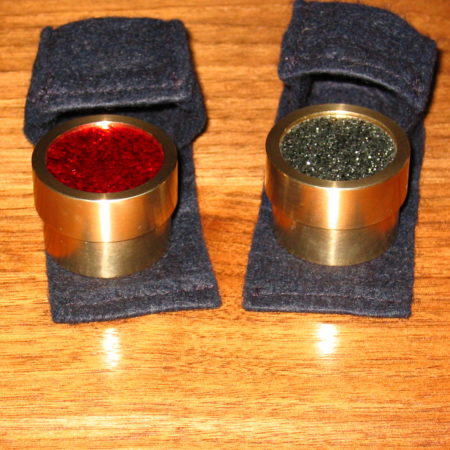 Fine Quality Props and Great Idea!

I really like this effect from Mark Leveridge and beautifully manufactured by that master Chip guy Per Clausen.

In effect, you show two small brass screw top boxes: one with a silver colored top and base and the other with a red colored top and base. The spectator freely places her ring into the silver box, and you place a coin in the red box. Then without any tricky moves the ring and coin switch places.

This effect is easy to do with no complex sleights. However, it does require some practice to get the handling smooth and clean. But since it all looks above board you are not really under any heat at the moments of the moves. Long before the audience thinks the effect has happened you are left clean and smooth.

Due to the nature of the transposition, you could devise other uses for these boxes such as using the one ahead principle for predictions.

I think this is a winner from Mark Leveridge – check out his site, he has some very interesting effects just waiting to be discovered.

Highly Recommended!


Click here for more information.