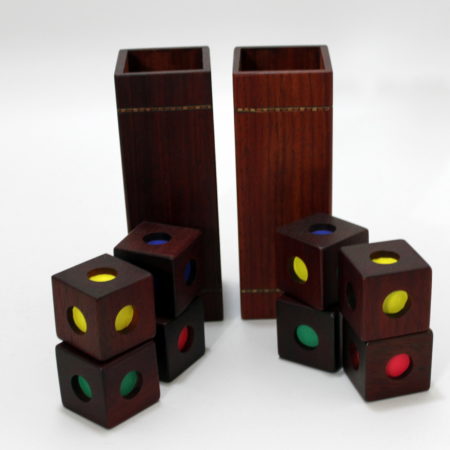 After a Closer Look . . .

I previously reviewed this prop based on pictures and a general knowledge of the routine. Subsequently, I had the good fortune to purchase this very piece on Quality Magic, and I like it even more in person.
Doug Gorman's craftsmanship is outstanding – Mel Babcock quality. This is a beautiful close-up prop, but it's too small for stage. Doug? Mel? Jay? Won't one of you build a stage-size version?
The apparatus comes with two routines. The "Selbit's Magic Blocks" routine is a winner – quick, easy, and baffling, with no shells, no difficult "moves," and sparingly little to memorize. And believe me, NO ONE will know how it's done. The "Instant Insanity" routine, on the other hand, includes a statistical narrative sure to cure insomnia.
This beautiful walnut prop is a one-off, but you can buy a plastic version for under $20.

Click here for more information.