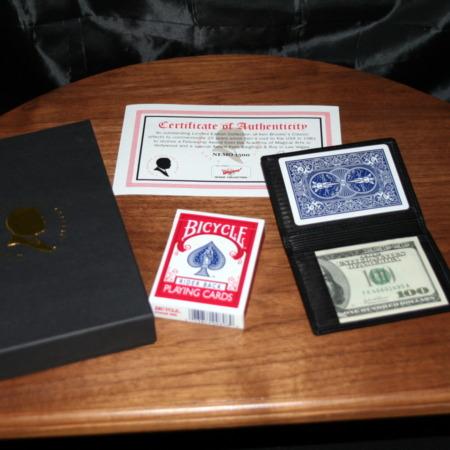 High Quality, Clean, and Amazing

This effect is variation on a classic Al Koran routine and I must say how beautifully made the wallets are and how clean the whole effect is.

In performance, you show a deck of cards clearly to be all different. You show your wallet with a single card facing back towards them and a hundred Dollar bill. If you don't get the prediction right they win the cash!

You ask them to simply count the cards face-up on to your hand and stop whenever they feel like it – there is no force. The card they stop at is the card used – you open your wallet and turn over the card (there is only one card in the wallet), and it matches their prediction. Now for the final suprise finish the wallet is turned over and printed in gold on the back of the wallet is the name of the card they chose.

Reset is a snap, and the result can be different between performances, so it can be done in a walk around situation.

The only down side with this effect is that you should ideally wear a jacket or something with large pockets, pant or shirt pockets are unlikely to be large enough.
Click here for more information.