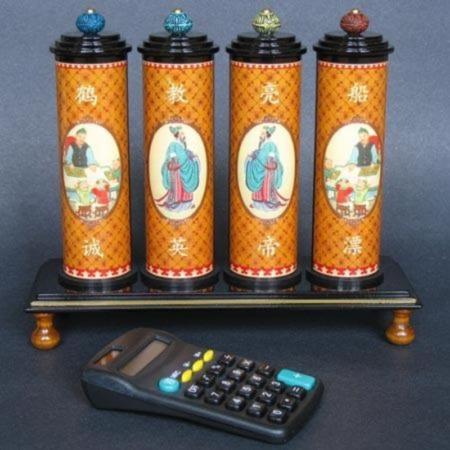 Can it get any better than this?

Having been off the buying spree for Gerlitz magic on 4 consecutive releases (with regrets on two), I am ecstatic with the last two from Richard. It was impossible not to desire True Love, but when I first saw the images of Modern Math on Richard's site, I knew I was seeing something extra special. Where does Richard get the inspiration and vision for his magic is beyond me…a magical genius are the words I hear describing him and that may be it.

Mental addition tricks have abounded in various presentations. Owen provides us with their Miracle Slate and Mel Babcock has Psychic Arithmetic. Now, along comes Richard to take this trick to a grand level and showcasing it in gorgeous museum quality props. For any avid collector of Mini-Magic, Richard will have you drooling over Modern Math. It's, without doubt, one of the most beautiful example of Mini-Magic I ever seen to date (but Richard could surprise me with his next release).

The mechanics are carefree and smooth. He thinks of everything…True Love being a good example. Whether the spectator uses 2, 3 or all 4 inner tubes, you have the total sum already predicted before the last inner tube is even assembled onto the apparatus. You don't even have to look at any of the numbers at all and you can be at quite a distance from the props when you write down the final predicted total.

One problem I do see is waiting now in anticipation over the next several months for Richard's next masterpiece. It's not going to be easy, more so to the growing number of collectors who would love to be among the lucky few to acquire these very limited released magical treasures.

I just don't know what I can add that others have already said on this man, other than thanks for raising magic building to a level very few have attained.

Click here for more information.