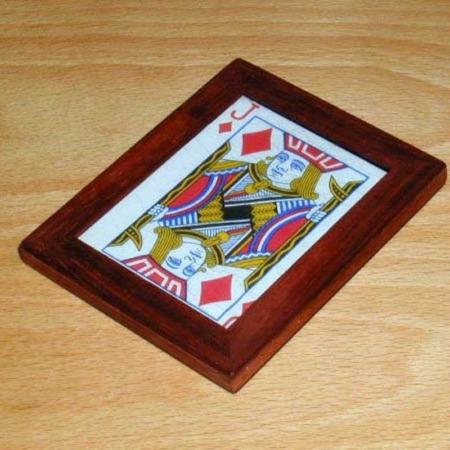 How does the mechanics fit in here?

So, Richard Gerlitz has clearly established himself with his limited edition magic…the lucky few who are regular customers of his magic must consider themselves the luckiest collectors of magic on this planet. I know I am. Not too long ago, I was fortunate to acquire this little very early Gerlitz piece from Andy Martin. Only 10 were ever sold and I have been wanting to add my comments on this little guy.

As an admirer of beautiful woodworked magic (see my Alan Warner collection), this is quite an impressive piece. The craftsmanship is impeccable. Though it is called "Miniature", it does use a regular bridge size card. The "miniature" may allude to the fact that extremely close tolerances in the construction were involved in the installation of the mechanism to perform the effect. Whenever I handle the frame, I still can't believe how everything fits in there. I am not sure what wood Richard used, but it looks like African Padauk to me. The effect works flawlessly and is a beautiful part of my Gerlitz collection. One sold recently on ebay for $3700. Though tempting, it will stay with me, even my wife advised I never sell it, which really surprised me.
Click here for more information.