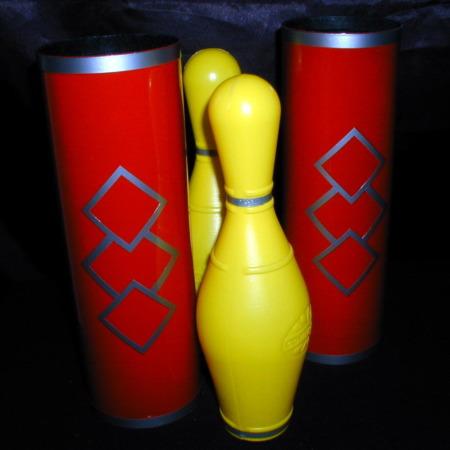 Well look at the Flocking on these!

So the Tricky bottles trick, invented by James Swoger, has been around since the late '50's and there are some good and bad versions out there. This latest version, by the master craftsman Jay Leslie, doesn't use bottles it uses Bowling Pins.

Not only is the method different from the bottles the tubes are very high quality and lovingly made. Jay even Flocks the interior of the tubes with this black, felt like material that really adds a nice smooth finish to the tubes. The tubes are very nice indeed – great paint job, solidly constructed, and will last a lifetime. Did I say I liked the tubes? They are so much better than the tubes you normally get for this sort of effect.

The other nice thing about this version is that not only can either Pin be chosen and examined by the spectator but also either tube too. But from even close-up with the easy to learn handling that never becomes apparent. The routine is pretty much the same Do-As-I-Do, but with wonderful apparatus. Its easy to do too!

Great Job Jay! Certainly Recommended!


Click here for more information.