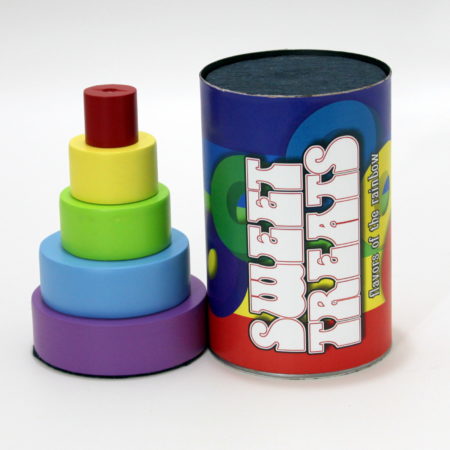 sweets treat wonder is F.A.B.

WOW never knew this existed, as a for sale item. i made one of these myself and it took from an idea on paper to 10 years later being made when i found my art work and realised how to get it to work, (the simplest idea's are always the best and most mystical) even when i wrote it down i thought "thats not going to work … is it ?" so i built one and WOW, the impossible can be done, 🙂 (mine has a tower of 7 colours and a half inch taller tube) i showed this trick to an engineer and he could'nt believe what he saw me do, the look on his face made this a worth while trick and over ten years to suddenly realise how it worked (to get it to do it) was worth the time.
to unstack / restack and cover with the tube (rotate the tube) lift off and….the stack still remains the same way up (small one at the top etc) ? and unstack them again.
i would / could possible update it to even more shockingly amazing, but need proper equipment to do it, better than a 10+/10 for this effect.
Click here for more information.