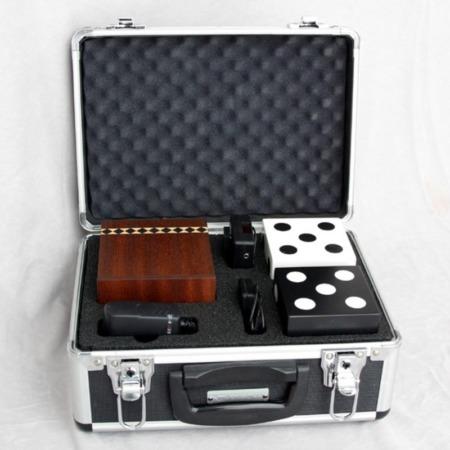 Real Quality

For quite awhile I've been intrigued by the descriptions of LabcoMagic's products on the Stevens Magic website. I considered ordering one of these items many times. Concerned about such a large investment, I checked for any feedback on the Magic Cafe. I waited in vain for Andy Martin to review one of these products on this fantastic website. Needless to say…I was thrilled when Soren Harbo of Labco emailed me to tell me I was chosen as the winner of his contest. Simply by subscribing to his mailing list, I was selected and given the opportunity to choose ANY of his products as my prize (free).

Well…Mental Dice arrived yesterday and it's absolutely incredible. In every way, it exceeded my already high expectations. First, it comes in a sturdy storage box ideal for transporting to performances. The wood dice and box are expertly crafted with no hint of the underlying device. The electronics are unbelievable. For instance, the receiver lets you know the actual voltage remaining in the batteries of both it & the box every time the unit is turned on. The transmission range is excellent. While I've only played with it for a day, my impression is that this will be a very reliable prop. I have been collecting some of the finest props around-both vintage and new (Owen, Anverdi, Milson Worth, Alan Warner, Mel Babcock, & Viking/Collector's Workshop) and this ranks right up with the best items made by those craftsmen.

I know that this type of prop is not for everyone. There are those who seem to feel electronics take the art out of magic. As someone who spent most of my life performing with a deck of cards, I understand these views. Yet, as I read Jim Steinmeyer's Hiding the Elephant, it is clear to me that historically the greatest magicians used whatever technology was available to them to produce a wonderful performance. Personally, I look forward to adding more LabcoMagic pieces to my collection as soon as my budget (and my wife) permits.

Click here for more information.