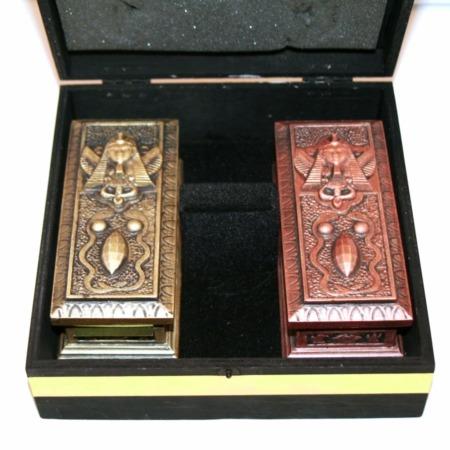 A Must to have for the Mummy Fan !

If you are like me, you are certainly a "mummy" fan. I have several different mummy sets, and I can tell you, I love this one created by the German Master Craftsman Tony Lackner.

The first thing that really impressed me, when I opened the carrying case was the size and the weight of the props.
The caskets are very well dimensioned and the mummy too.
There are many hieroglyphic characters and decorations on each.
Tony Lackner had created a very desirable magic item. You will never tire of looking and playing with these props.
Due to the size of the caskets, you will be able to perform each move with ease, smoothness, and silence, like in an Egyptian Mastaba.

Herbert M. Paufler has created a superb patter to go with this set.
The story involves two strange characters: Omar & Achmed who have decided to plunder a tomb . The rest of their adventure is a funny and weird one.
Mister Paufler has written the patter, which justifies the props and every move.

The only thing I had to retouch a little was the carrying case, to bring a better protection to the props, but I guess that is because I love "boxing" things!

A great Mummy set for the collector. Two thumbs up!!

Francois Danis


Click here for more information.