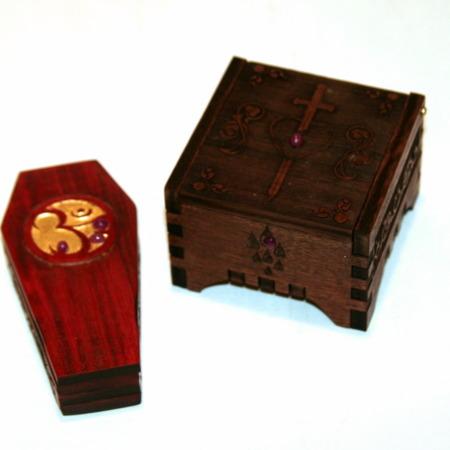 Wonderful Work By the RNT II Company

I purchased a slightly different version of this fine piece. The people at RNT II custom made a chest encrusted with rubies, saphires and emeralds. While I was a bit reluctant to believe they could provide 15cts of actual precious gemstones, a local jeweler confirmed that they were indeed authentic gemstones, not faux.

I particulary like the aged/distressed finish on both the casket and the Vanhelsing box as they refer to it. The finish is just perfect, not overkilled or shoddy looking. The gold leafing is a beautiful touch as well as the burned prayer within the casket itself.

I had contacted RNT II about maybe making an extra paddle for me, they responded immediately with a cracked mirror paddle after casting the reflection of Dracula in to it. This was the icing on the cake for me. Very nicely made on such short notice and delivered quickly.

They include the original Doug Bennett routine with it. While the original routine only deals with 1 paddle, the rest is left up to the performers imagination, I was a bit suprised, but again after thinking about it, I like the idea of developing my own lure about the props.

Handling of the paddles are perfect, right length, right thickness, not too slick and not to rough, just perfect, at least for my liking. What I find very useful is the way the Cross is designed and the wood they chose to create it from. RNT II told me they used a wood called Buckeye Burl, which has a naturally distressed/aged look. Again as a paddle it handle perfect.

I recently ordered 2 more, 1 in Burmese Teak and one in Black Ebony with Bloodwood paddles and the cross in the same wood. I can hardly wait to add these to not only my micro magic collection, but my display as well.

Overall, this is one of the finest, useable purchases that I am both proud to use and show off to my friends.

Sincerely,
Craig Wilson Sr.


Click here for more information.