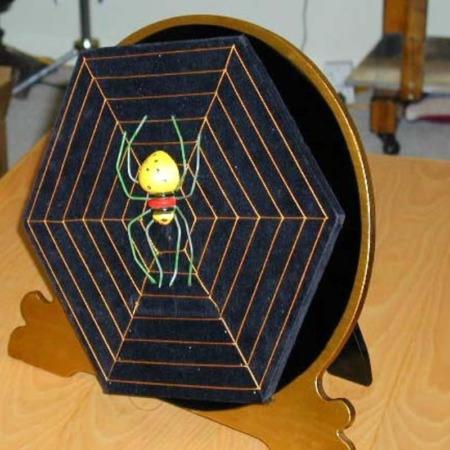 Card Spider Tip

I had the same problem setting that thread up so here's what I did:

Attach the end of about 15″ of thread to the back near the spindle. Take a piece of wire about 6″ long and bend the end of the wire into a tiny 'J' hook that fits through the hole. Put your hook through the hole, snatch the thread, and pull it through to the front. Lightly scotch tape the tread to the back CENTER edge of the card to be forced and place it in the pocket. When the tread wraps around the spindle and the card goes into the spider's legs the tape will release the card. With this wire hook gadget you can set the effect up in about 2 minutes. I've been using the same thread for 8 years.

Hope this works for you, it's a great effect and David Ginn has a wonderful kids routine in one of his books.

Click here for more information.